Azrieli Foundation author Adam Shtibel is delighted that the family that hid him during the Holocaust will be recognized by Yad Vashem's Righteous Among the Nations. This honour pays tribute to those who "protected their Jewish neighbours at a time when hostility and indifference prevailed."

After his family was killed, ten-year-old Adam hid from the Nazis in the Zamość forest. He later encountered Janek Szelag, a farmer in the small Polish village of Borki, who took Adam into his home. Adam lived with Janek and his wife, Aniela, for five years, including two years after the war ended.
In 1956, Adam married Rachel Milbauer and the couple immigrated to Israel and then to Canada in 1968. The Shtibels and Szelags eventually lost touch and although Adam attempted to reconnect with them over the years, his efforts were unsuccessful.
Unbeknownst to Adam, the descendants of the Szelag family had been searching for Adam for decades. Having heard Janek and Aniela's wartime stories, they wanted to meet the man who was spoken of so often and with such great affection. It wasn't until December 2019 that Janek and Aniela's granddaughter Kasia Szelag found the Shtibels through the Azrieli Foundation's website. Adam and Rachel published their joint memoirs, The Violin/A Child's Testimony, in 2007. Coincidentally, Kasia lives in Ontario, only 45 minutes away from the Shtibels and they arranged a meeting, which was documented by CTV News. Adam referred to the reunion as a "miracle" and Kasia was thrilled to meet the "hardworking, young Jewish boy" from her grandparents' stories.
After the meeting, Adam, with the help of Azrieli Foundation staff member Elin Beaumont, submitted an application to Yad Vashem to formally recognize his rescuers.
In July 2021, Adam was notified by Yad Vashem that Janek and Aniela Szelag will be deemed Righteous Among the Nations, with a ceremony taking place in Warsaw, Poland, in mid-October. A specially minted medal and a certificate of honour will be awarded posthumously to the couple, and their names will be added to the Wall of Honor in Yad Vashem's Garden of the Righteous in Jerusalem.
The Azrieli Foundation is thrilled that the family who helped save the life of an incredible survivor author is receiving this distinction.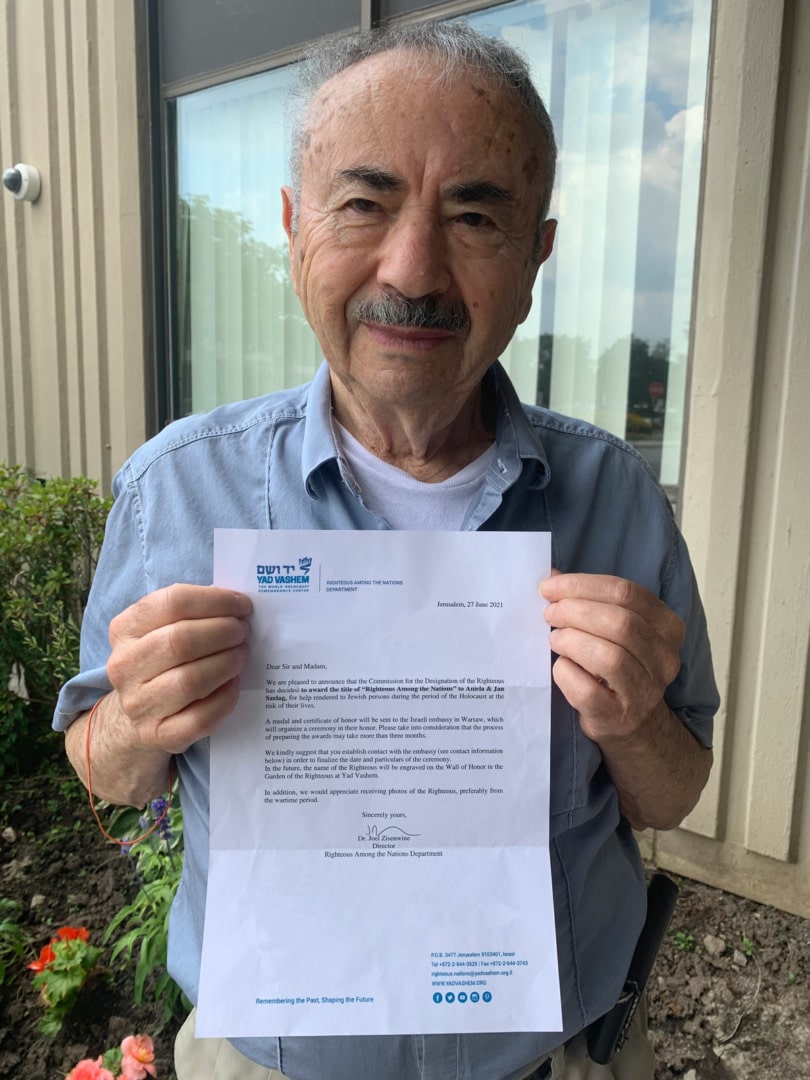 ---

---