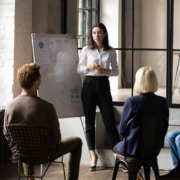 Synopsis
Academic faculty members appear before audiences on a daily basis. Public appearances and successful communication are some of the most important tools for working effectively in the academic world when teaching, managing well-streamed research, leading scientific labs and experiments and fundraising. The Amanda Method – which I have developed based on years of experience as a professional actor, drama teacher and lecturer for businesses – promotes the development of effective performance and interpersonal communications. Utilizing this method will lead to transformation, enhancing one's presence, self-confidence and eventually, influencing others – much in the same way that first-class actors do. Everything you need to know will be right here, in one concise meeting.
Outcomes
During the workshop, I will share methods, models and tools from the acting world, and adapt them to help you achieve your goals in academia and beyond. By the end of the meeting, participants will have acquired a clear and well-defined method for public appearances and effective communication – the Amanda Method.
Session Dates
Thursday, January 5, 2023, 10:00 – 13:00
About the Instructor
Zohar Strauss has worked with various groups since his youth, a leader in the Scouts, and a training instructor during his military service. After studying law in England, he took a gap year "to figure out what he really wanted to do". This year turned into three years at the Yoram Levinstein Acting Studio, a 15-year career and parts in films, theater and television. Among other things, Zohar won the Ophir Prize on his role in the movie "Lebanon'. The son of a physicist and mathematician, he teaches drama, and his students include some of Israel's prominent actors. He has been engaged in the development of various models which in time turned into the "AMANDA method".
Start Date
Thursday, January 5, 2023
Open to
Early Career Faculty