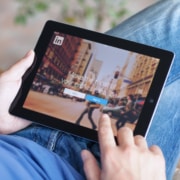 Synopsis
The 'LinkedIn' platform allows us not only to search for jobs, but also to build our professional brand and thought leadership online. Even for folks who are averse to social media networks, LinkedIn is an important tool, especially in the current labor market that requires us to conduct ourselves as a brand. This hands-on LinkedIn workshop provides knowledge and tools for crafting a stellar LinkedIn profile and teaches how to use the platform effectively to navigate one's academic career.
Outcomes
Participants will learn how to craft their 'About' paragraph and build up their profile, explore how to use LinkedIn for their job search and learn how to maximize their use of the platform to advance their career
Session Dates
Two sessions:
• Sunday, April 30, 2023 09:30-11:00
• Sunday, May 7, 2023 09:30-10:30
About the Instructor
Noa Epstein Tennenhaus (Cambridge MBA and Gates Scholar) is Founder & CEO of Application Shine, which helps people worldwide craft stellar applications to the most competitive academic and job opportunities.
Start Date
Sunday, April 30, 2023