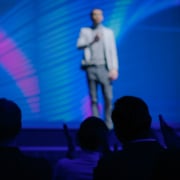 Synopsis
This workshop is designed for Fellows who give talks in English regularly as part of their academic work and who wish to improve their fluency and hone their delivery. The course can be re-taken by Fellows who have taken part in the workshop in the past and wish to continue to practice.
Outcomes
The workshop aims to help Fellows scale up their English proficiency and become more powerful and confident public speakers by working on all aspects of English in an accelerated and highly practical environment.
Session Dates
Six sessions:
• Sunday,May 14, 2023 09:30-11:30
• Tuesday, May 16, 2023 09:30-11:30
• Sunday, May 21, 2023 09:30-11:30
• Tuesday,May 23, 2023 09:30-11:30
• Sunday,May 28, 2023 09:30-11:30
• Tuesday, May 30, 2023 09:30-11:30
About the Instructor
Noa Cohen is an English coach. She helps Israeli professionals feel more comfortable and confident with their English communication by helping them progress towards native English fluency. Her primary focus is on grammar, speaking, accent reduction, and vocabulary enrichment. Through multiple step-by-step strategies, simple formulas and methods, and direct feedback – Noa helps her students feel comfortable and at ease when communicating in English. She is known for her fun and non-judgmental approach which she has polished over more than nine years of teaching business English and developing teaching techniques that lead to recognizable transformation. Noa holds a BA (in Psychology) and an MBA from the Academic College of Tel Aviv-Yaffo, and a teaching certificate from Cambridge University.
Start Date
Sunday, May 14, 2023