Sept 4, 2019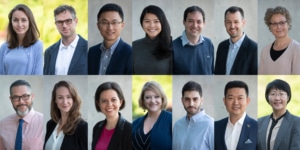 The CIFAR Azrieli Global Scholars program supports exceptional early-career researchers who show promise to be the research leaders of tomorrow. Through funding and mentorship, the program enables essential network and professional skills development. CIFAR Azrieli Global Scholars join CIFAR research programs for 24 months where they collaborate with fellows and inspire new ways to approach the most important questions facing science and humanity.
"We are thrilled about this infusion of talent joining our research programs and our global community," says Dr. Alan Bernstein, CIFAR president & CEO. "These early career scholars and scientists are among the world's brightest and most promising leaders of their generation. We are very excited to welcome them as the 2019 class of CIFAR Azrieli Global Scholars."
The 2019-2021 cohort of CIFAR Azrieli Global Scholars
Fourteen researchers were selected from 217 eligible applications from 37 countries. These researchers are among the top emerging global talent with citizenship in eight countries and appointments in institutions in Canada, the United States, Israel, Australia, the Netherlands, and Spain.
Azrieli Program in Brain, Mind & Consciousness
Bio-inspired Solar Energy
Gravity & the Extreme Universe
Humans & the Microbiome
Molecular Architecture of Life
________________
Applications open on December 5 for the 2020-2022 cohort of CIFAR Azrieli Global Scholars
Applicants can be from anywhere in the world, must hold a PhD (or equivalent) and be within the first five years of a full-time academic position. Applicants' research interests must be aligned with the themes of a CIFAR research program recruiting in 2020-2022: