Breaking new ground at the Azrieli School of Architecture
Azrieli Foundation donates 50 million ILS for new architecture building at Tel Aviv University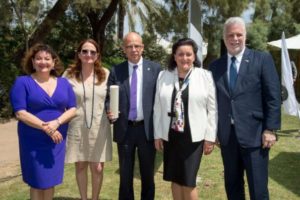 From left to right: Sharon Azrieli, Danna Azrieli, Prof. Yosef Klafter, Naomi Azrieli, Quebec Premier Philippe Couillard place the cornerstone in the new Azrieli Architecture building at Tel Aviv University
On May 23rd, Tel Aviv University and the Azrieli Foundation will break ground on a new building which will catapult the Azrieli School of Architecture into one of the most advanced in the world. With a donation of 50 million ILS from the Azrieli Foundation, the facility will be on par with GSD Harvard and the AA – Architectural Association's School of Architecture in London.
The Azrieli School of Architecture at Tel Aviv University was established in 1993. As enrolment increased and the programs expanded, the school outgrew its building. The new state-of-the-art facility, which is scheduled to be completed in 2021, will extend over 5,000 square meters and be situated at the front edge of the campus on Antin Square, at the corner of Einstein and Chaim Levanon Streets. For the first time in the history of TAU, one of its faculty buildings will prominently face onto a public street, and will include retail space open to the public, as well as a gallery for the School of Architecture.
Naomi Azrieli, Chair and CEO of the Azrieli Foundation in Canada says, "One of the key aims of our Foundation is to support education and architecture – an objective also close to the heart of our founder, David J. Azrieli. As a Zionist, philanthropist and an architect, he felt passionately that Israel needed more architects to build the country, literally and figuratively. Literally, because we know it is vital to ensure solidly educated undergraduates who can change the landscape. Figuratively, because this School now provides Master's and Doctorates for exceptional architects who can research, study and inspire new students."
Danna Azrieli, Chair of the Azrieli Group and the Azrieli Foundation in Israel, continues, "We have known since the School opened that these students needed a purpose-built facility. In fact, we still have my father's early architectural designs of the space he imagined. We're thrilled with what this building will offer as well as the prominent location on campus, which sends a message about the importance of training tomorrow's architects. We are proud of what this school has become."
Dr. Eran Neuman, Head of the Azrieli School of Architecture at Tel Aviv University said: "We anticipate that the new building will double the area of the current School of Architecture building. It will be meticulously planned to incorporate innovative classrooms, computer workshops, digital laboratories fitted with the latest technologies, areas dedicated to workshops, lecture halls, seminar rooms, and a gallery."
Prof. Joseph Klafter, President of Tel Aviv University, thanked the Azrieli Foundation for its long-term involvement in development of the University, saying: "In recent years, a real need has arisen for a new building that is able to provide a response to the unique and varied needs of the architects of the future. Thanks to the generous contribution of the Azrieli Foundation, we can now provide that response."
In attendance at the groundbreaking will be Naomi Azrieli, Danna Azrieli, Sharon Azrieli, (to be confirmed) Directors from the Azrieli Foundation (to be confirmed), and Quebec Premier Philippe Couillard (to be confirmed).
The Azrieli Foundation funds institutions as well as operates their own programs in Canada and Israel in architecture, higher education, scientific and medical research, school perseverance, Holocaust education, music and the arts, and quality of life initiatives for people with developmental disabilities.
The current donation to Tel Aviv University is the latest in the long history of significant support for architecture and education, such as:
The Azrieli Architecture Student Prize, now in its 14th year, recognizes creativity, originality and architectural quality among recent graduates of the five Israeli academic institutions that award such degrees.
The Azrieli Architecture Archive, dedicated to collecting and retrieving original Israeli architectural material in diverse media (blueprints, sketches, models, digital material, tests, letters, etc.), for the benefit of researchers, students, architectural lovers and the general public, who wish to study the artistic, cultural, social, political and technological characteristics of Israeli architecture.
In 2005, the Foundation created the Azrieli Fellows Program, which provides generous financial support to the best and brightest researchers from Israel and abroad who will use their training to become leaders in their respective fields including Architecture. This Program supports graduate and post-doctoral students and junior faculty at seven Israeli universities in all fields.
In 2007, the Azrieli Foundation endowed the Azrieli School of Architecture and Urbanism at Carleton University in Ottawa, Canada.
The Azrieli Global Studio brings together four renowned architecture schools at Tel Aviv University, the Technion, McGill University in Montreal and Carleton University in Ottawa, providing a platform to foster cultural transfers and research collaborations between Israel and Canada.
Azrieli Foundation Makes Significant Donation to the Arts
The Azrieli Foundation has pledged $1.3 Million to the Canada-Israel Cultural Foundation in order to support America-Israel Cultural Foundation's Sharett grant program. The Foundation's generous donation will allow the AICF to maintain and expand the awarding of its Sharett grants, which discovers and nurtures young Israeli artists.
Dr. Sharon Azrieli, Board Member of the Azrieli Foundation, explains why the Foundation has chosen to support the program. "We are passionate about encouraging creativity and artistry, particularly for emerging and early career artists. The Sharett grant recipients are at an exciting stage of their career, and we are thrilled to be able to support them."
The America-Israel Cultural Foundation is a leading provider of grants to talented young Israeli artists in various artistic endeavors such as music, dance, theatre, visual arts, and design.
The America-Israel Cultural Foundation is a leading provider of grants to talented young Israeli artists in various artistic endeavors such as music, dance, theatre, visual arts, and design.
"In the name of all of us at the AICF, we would like to thank the Azrieli Foundation and the Canada Israel Cultural Foundation (CICF) for their generous donation and their support of young artists from all across Israel", said Scott Mortman, Chair of AICF Israel. "Since its founding, the Sharett Grant program has helped thousands of young Israeli artists launch their career and fulfil their talent and potential. The AICF considers its support of Israeli arts and culture to be of the utmost importance. With this new donation, the AICF will be able to extend and expand its Sharett Grant operations into new artistic fields."
During its 78 years, the AICF has supported over 18,000 students. Many of the most notable Israeli artists are grant recipients, among them: musicians Daniel Barenboim, Anat Cohen, Miriam Fried, Itzhak Perlman, Pinchas Zukerman and David Broza; singers Rita and Chen Reiss; artists Aram Gershuni, Michal Heiman, Sigalit Landau and Michal Rovner; choreographers Sharon Eyal, Rami Be'er and Ohad Naharin; film directors Tomer Heymann and Talya Lavie; and actors Dana Ivgi, Sasson Gabai and Itay Tiran.
About the Azrieli Foundation
For over 25 years, the Azrieli Foundation has funded institutions as well as operated programs on the ground in Canada and Israel. The Foundation supports music, the arts and architecture, scientific and medical research, higher education, Holocaust education, youth empowerment and school perseverance, and quality of life initiatives for people with developmental disabilities.