Why education?
The late David Azrieli firmly believed that education was the most important gift he could give to anyone.
Learn why education mattered so much to David Azrieli, and continues to provide a thread through all of the Azrieli Foundation's activities.
Yeshiva University became the first – and is now the longest standing – beneficiary of the Azrieli Foundation.
The Azrieli Graduate School of Jewish Education and Administration was established in 1983 and trains Jewish educators from every part of the United States, Canada, Israel and Europe.
This prestigious school teaches a cadre of educators who will relay the rich knowledge and traditions of the Jewish heritage with warmth, joy and intelligence.
Students includes teachers and administrators, regardless of institutional or denominational affiliation, who want to enhance their skills and competencies while earning an advanced degree in Jewish education.
Alumni serve at the helm of schools, educational agencies, universities and communal institutions all over the world.

Azrieli Schools, Talmud Torah | Herzliah in Montreal
In 2019, the Azrieli Foundation helped cut the ribbon on a new, state-of-the-art high school which features the latest in education technology and a STEM (Science, Technology, Engineering and Mathematics) Centre, as well as spacious classrooms, a rooftop terrace and garden and a variety of labs and group meeting spaces.
Take a peek into this outstanding facility, Herzliah High School, which is connected to the Jewish Community Campus, encouraging students to use the Jewish Public Library, the Segal Centre for Performing Arts, Federation CJA and the Y.
The Azrieli Schools are a connected system of education, which includes Talmud Torah Elementary School.

iTaLAM: A new way of learning Hebrew
The iTaLAM program was developed on the notion that the best learning environment for children is one in which knowledge is acquired through a variety of activities, using each of the five senses.
In addition to studying from textbooks, students learn the Hebrew language through music, games and visual aids, developing a keen understanding of Jewish concepts and values.
The students' Hebrew and heritage literacy develops in a gradual and spiraled process, building new ideas and concepts on an expanding foundation of knowledge.
The program helps foster Jewish identity by allowing children to explore their Jewish roots and traditions in fun and exciting ways.
By teaching the study of Hebrew and Judaism as it is relevant to the children's everyday lives, the program enables them to develop a true appreciation of their heritage, and understand the need for continued, lifelong Jewish study.

TALI Schools
In the Israeli secular public education system, Bible studies are a mandatory component of the curriculum and are included on matriculation exams. Traditionally, the subject and accompanying teacher training are focused exclusively on content, with little attention paid to connecting the student to their Jewish heritage through the text.
TALI is different.
The first TALI school opened in 1976 and offered an alternative experience for secular schools that nurture children's Jewish identity. Today, the TALI network has 70 schools and also provides teacher training for the educators in their networks.
Recent reforms in the school system, growth in number of teachers with Masters degrees, changes in educational technology, and trends in Israel and the Jewish world, led to the need of a new professional leadership program for TALI, and so, in 2016, 11 TALI principals participated in a pilot program, Halleli. This professional development program focused on Jewish-Israeli identity and pluralistic Jewish education.
Halleli provides opportunities to educators who are at the heart of molding the next generation in Israel to experience and engage in dialogue with active members of Jewish communities; it helps Israeli teachers and principals expand horizons and their conceptions of Jewish identity and teaches them how to convey it to their students. The impact offered by training teachers and education leaders is exponential.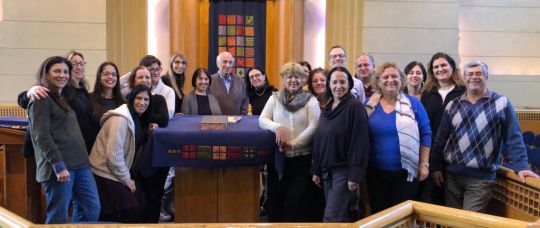 ---

---