Finding purpose and community through work

In Toronto, two outstanding organizations are providing meaningful work for adults with disabilities. Good Foot and DANI were created with similar purposes – to help adults with disabilities gain independence and build community.
Good Foot is a courier service created by Jon Gauthier and his sister, Kirsten, in 2010. Jon has a developmental disability and was struggling to find a full-time job that would aid in his personal growth and provide him with financial independence. Rather than give up, he sat down with Kirsten, and the two came up with the idea for Good Foot – a professional courier service that would provide employment opportunities for people with developmental disabilities.
"It feels good to help others with a disability. I get the sense of knowing I'm helping people who are not as privileged to get a full-time job and helping to bring them into the fold," he said. "That's important."*
Started with 5 couriers, Good Foot has grown to a team of 31 couriers and 2 trainees as of December 2019.
Similarly, DANI (Developing and Nurturing Independence) was created by two parents to meet the needs of adults with disabilities. What started as Kathy Laszlo and Susie Sokol's idea to create a program to help prepare their own children for the workforce, DANI has grown enormously since its founding in 2006.
Their catering service started off as a social group, with a week-long summer camp for people with developmental disabilities. It grew quickly to a daily program that taught participants to prepare school lunches from a home kitchen rented by Laszlo and Sokol, and now serves the Greater Toronto Area from its Thornhill preparation and training centre.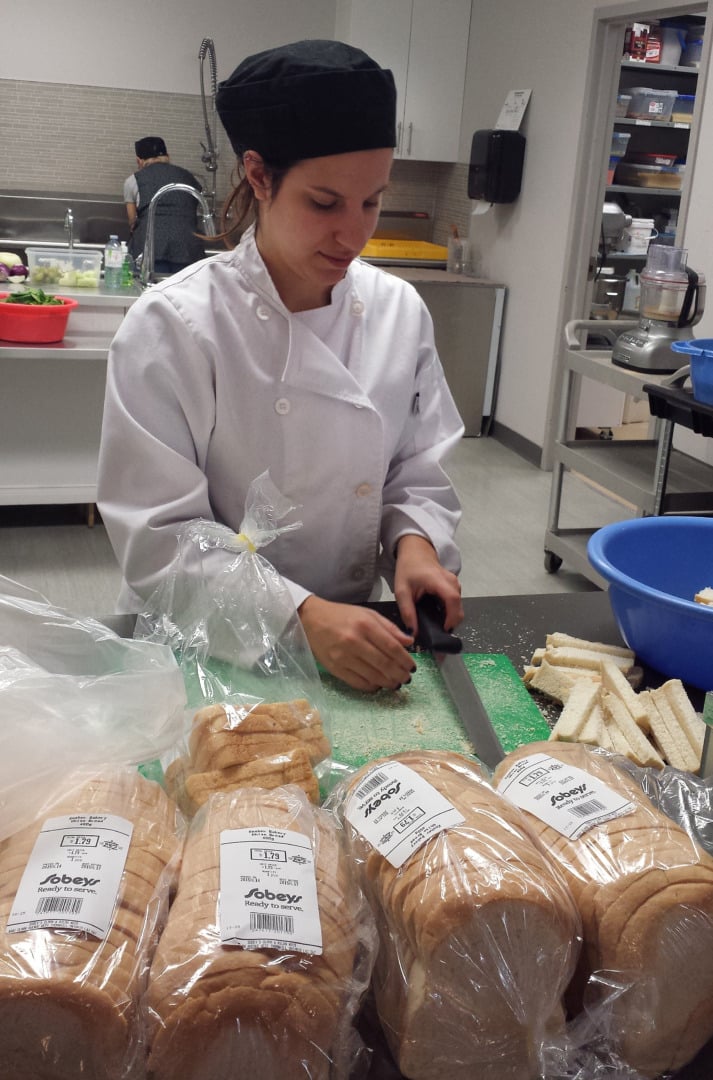 Good Foot's vision for the couriers is that their work experience will lead to personal growth, independence, increased self-esteem and a greater sense of self-worth. The staff receives 100 per cent of courier revenue.
At DANI, staff work "to create opportunities for adults with physical and/or cognitive challenges so that they can participate fully as valued members of the community and enjoy a meaningful and dignified quality of life." DANI helps over 100 adults with cognitive or physical disabilities in learning skills that they need to be successfully employed.
One of DANI's programs, the Pop-Up Lunch involves including participants in every step of the catering process from making and packaging food, to serving, collecting money and cleaning up. Participants receive a dividend of the profit, with the remainder funneled back into supporting other DANI programming.

"Find out who you are. And do it on purpose."
– Dolly Parton

Employees at DANI and Good Foot see themselves as part of the greater community, while working towards individual and collective goals. Some of them describe their colleagues as a second family.
As part of their efforts to create a more inclusive community, Good Foot is working to change society's perception of individuals with disabilities in concrete ways. With reliable couriers who do their jobs well, clients see that the staff are eager to learn and grow. Ultimately, Good Foot is investing in the well-being of the entire community.
A 2013 social impact study conducted by the University of Toronto's Social Economy Centre found that every $1 invested in Good Foot generated $2.36 in social value (SROI) – a measurement of social, economic and environmental impact.
These impacts are not always immediately obvious. Good Foot offers couriers a place of belonging, a steady job, and pride in having a role in part of a valued business. Customers help remove the stigma and barriers for people with disabilities by contributing to Good Foot's financial success, thus helping to employ and integrate couriers into the community.

"Alone, we can do so little; together, we can do so much"
– Helen Keller

DANI participants see similar positive effects. Their Pop-Up Lunch program provides a clear window into the daily operations in a corporate setting – customers can see participants actively engaged in their job and chat with them as they buy lunch. This open engagement allows customers to see the skills and abilities of participants in programs like DANI.
According to the Public Health Agency, social isolation is one of the key determinants of health, however social programs such as DANI are actively ensuring that participants are involved, therefore reducing reliance on social assistance and promoting active socialization of members. In addition to providing employment, Good Foot also fosters meaningful social connects among their team through after-work activities such as a running club and games nights.
While there is still a long way to go, organizations like Good Foot and DANI are working diligently to provide a way for adults with disabilities to grow, learn, and give back in meaningful ways to their communities.
*https://www.thestar.com/yourtoronto/yourcitymycity/2010/08/20/off_on_a_good_foot.html
---

---
We are proud to support programs that enhance the quality of life for individuals with neurodevelopmental disabilities, to ensure that each individual has the opportunity to participate fully in their communities.
Learn more