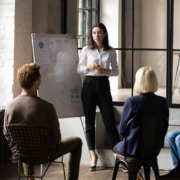 Synopsis
In today's science landscape, a strategic, proactive, and individual approach to career development is essential. However, scientists are often left alone with the complex task of sourcing and evaluating the available career options, as well as deciding on a career path that fits their interests and motivations. In this interactive workshop participants will identify their transferable skills and drivers. We will guide them to explore different career options and analyse which career paths might match their interests and skills. We will enable participants to communicate their skills, goals, and interests in an impactful way. Through extensive practice in providing evidence for their skills and achievements, we will empower participants to master the application process. This workshop is most suitable for Graduate Studies Fellows towards the end of their Fellowship (year two and three).
Outcomes
Participants in this course will
• Develop the intellectual framework to make informed career choices • Increase the awareness of own skill set, interests and career goals
• Be empowered to present themselves and their work with impact
• Be equipped with a strategy to answer interview questions
• Understand career development as a continuous and dynamic process
Session Dates
Sunday, June 12, 2022
Monday, June 13, 2022
*Retreat-style workshop in a hotel (one night, two-days)
About the Instructor
HFP Consulting is a company that provides professional development training exclusively to scientists and scholars. We have developed and established professional development workshops for scientists at leading organizations in Europe (e.g. MRC and NBI in UK, EMBO, BRIC and NNF centres in Copenhagen, VBC and IST in Vienna, BIST and PRBB in Barcelona), Middle East (e.g. Weizmann, Technion, Tel Aviv University, Azrieli Foundation), USA (e.g. Johns Hopkins University, Harvard Medical School, MIT, Princeton, Cornell), Africa and Japan. These organizations run one of the most successful training programmes for scientists and we are proud to have pioneered this together with them and that we keep being involved in these programmes on a continuous basis. Our experience in selectively working with scientists worldwide has been highlighted in an article in Nature on Leadership in Science (https://www.nature.com/articles/d41586-018-05156-3).
Instructor
HFP Consulting
Start Date
Sunday, June 12, 2022